Rumors have been building for a while now about the likelihood of the next-generation Nissan GT-R receiving some type of hybrid drivetrain. As it is, the company's supercar is already an impressive amalgamation of technology and horsepower. Supposedly, Nissan is interested in giving the next generation of the 485 horsepower, all-wheel-drive beast a drivetrain similar to that of the Infiniti Essence concept. That means a smaller V6 with around 440 horsepower and an electric motor with 160 horses. A combined total output of 600 horsepower is sure to please Nissan fans, but there are other factors to consider when it comes to building a hybrid sports car.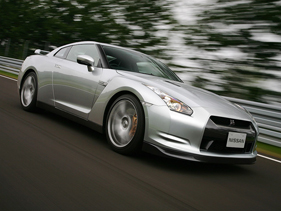 Electric motors have always been tempting for automotive engineers for a number of reasons. For one, they're incredibly compact, providing a serious punch without needing the same sprawling cubic feet that internal-combustion engines require. That small design means the rest of the vehicle doesn't need to be engineered around an engine bay – freeing up aesthetic and aerodynamic limitations.
Also, electric motors provide all of their torque very low on the rpm band. How low? Try zero rpm. No matter how fast the motor spins, it will put out the same amount of torque. That means from the very first revolution, all of the available power is going to the ground. The engine doesn't need to build up revolutions in order to make power. In a motor sports setting, that's incredibly important and can mean a whole new level of performance.
But there are drawbacks as well, and one of the biggest is weight. When it comes to building a sports car, excess weight is to be avoided at all costs. Unfortunately, electric motors aren't exactly lightweights, and the batteries they require to operate can add hundreds upon hundreds of extra pounds to the vehicle's chassis. That weight adversely affects everything from the car's ability to accelerate to how it corners and stops -- all the pertinent measures of a sports car's performance.
That's not to say a hybrid sports car couldn't be effective against internal-combustion competition. The GT-R is a prime example of how technology can overcome excess weight. The car hits the scales at a sumo weight of 3,814 pounds. As manufacturing techniques continue to advance, they will allow for more exotic lightweight materials at lower costs. Carmakers will undoubtedly integrate some form of hybrid drivetrain into their athletic products sooner or later, and if anyone could do it successfully, it would be Nissan.