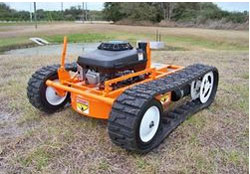 One of the things that comes along with summer is lawn care. I hate mowing my yard, but I am too cheap to pay someone to do it for me. Mowing the yard is especially sucky here in Texas since it's like 105 in the shade most days during the summer months. I am counting the days until my son is old enough to do it for me. That's why I had kids after all.
I think I could probably get the neighborhood kids to mow my lawn for free if I had this sweet remote control mower. The thing looks like a cross between a tank and your average mower and can navigate slopes up to 70 degrees.
The controls are a simple to use joystick and the mower uses a hybrid power system making it need 40% less fuel that comparable mowers. The big downside is that the RC mower pictured here costs about$11,000 and consumer models start at about $2,000.